EDMsauce.com Artist of the Week: BLAZAR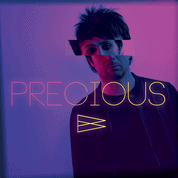 What is going on dance music fans?! Today we are bringing you yet another killer up and coming group going by the name of Blazar! BLAZAR bring us the freshest take on 1980's Beats and we really think he is pushing to be The Future of EDM.

Based in Spokane, Washington, Jerad has assembled a conglomerate of exceptional producers, writers and engineers; creating next level Electro-Alternative representations in musical form.

Its creative objectives are to fuse sonic innovation, pushing the envelope while trying to contribute to the betterment of mankind, on and off the dancefloor.

The new track, "Precious" released September 18, 2020. "Precious " was produced by BLAZAR & Anthony (ajax) Resta (Duran Duran, Elton John, Perry Farrell). It was mixed by Mark Needham (The Killers, Imagine Dragons, Shakira, Stevie Nicks) and mastered by Hans Dekline (U2, Lisa Loeb). It was written by BLAZAR, Anthony (ajax) Resta, Jay Condiotti (Collective Soul, Raven-Symone, Tiffany).
"We are going for a Prince meets Michael Jackson new age kind of thing. It's a straight up love/sex/attraction song. I wanted to create a vibe as opposed to a more structured song.This is what BLAZAR is about, combining and stretching into new creative realms and pushing boundaries with super rad people," says producer/ artist, Jerad Finck.
BLAZAR's impressive list of superstar contributors includes: hitmaker Anthony Resta (Duran Duran), Steven Solomon (James Arthur), David Filice (DMC), Jay Condiotti (ScoreKeepers), Troy Welstadt (P!NK), Denny White (), Jake Newton (Sleeping Wolf) and Kyle Davis (HEwas), Hans Dekline (Grammy Winning Engineer) and more.

Over the last eight years, Jerad garnered three Top 40 hits. His premiere release, "Runaway" was an instant smash and quickly immersed him into the whirlwind that ensued.

The most significant song of Jerad's solo career is "New Kids" which speaks directly to the issues of social evolution and reform. Released in several stylistic remixes, it struck a nerve in young audiences and charted at three different radio formats.

After New Kids hit a nerve with fans, Jerad released "Home" which received 400,000 streams on Spotify in its first week. "Shortly after that, I got a call from Tom Sarig, Owner at AntiFragile Music who heard my song on Spotify's New Music Friday.

BLAZAR, Jerad Finck, and his international band of music warriors are on a mission to send deep penetrating messages of healing with aftershocks of synth pop delight.

BLAZAR Links:

YouTube:

Spotify:

https://open.spotify.com/artist/5p1lEJoft7wgJYbg3PYvK2?si=M9GNNWk3SmKj16kIAPTqrA

Soundcloud:

Instagram:

Twitter:

Facebook:

www.facebook.com/blazarofficial

##