Marshmello & Carnage Team Up To Take Us 'Back In Time'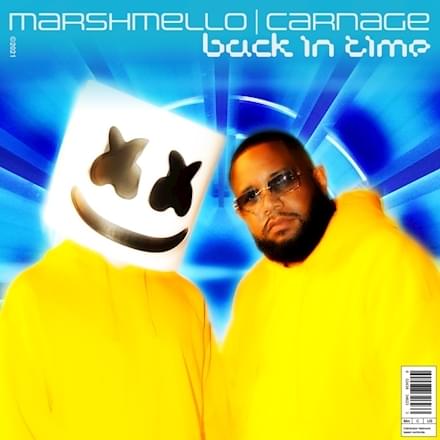 Every now & then we get to see two A-list producers come together who've previously never crossed paths — at least musically. Today, we get to see just that as everyones favorite marshmallow, , and Papi , aka join forces. The two powerhouse producers have come together for their newest tune, titled 'Back In Time'. If you're into catchy, danceable music, then you're going to want to check this song out.

If you've been listening to either of these artists, just know that that 'Back In Time' is a departure from the style of their previous releases. Marshmello just finished working with the The Jonas Brothers on their ballad-esque 'Leave Before You Love Me' collaboration. Carnage on the hand, has be releasing house tracks under his newfound Gordo moniker. He just recently dropped a sweet remix of El Alfa x CJ x El Cherry Scom's 'La Mamá de la Mamá' alongside REDTAPE. Their new tune 'Back In Time' is like neither of these tracks. Despite this, it still works, and i'm positive it's will go off live.
Back In Time
'Back In Time' is a honestly a Smörgåsbord of genres & influences. I personally can't quite put my finger on what to call this, but its great. I for one, enjoy it. 'Back In Time' features some playful vocal chops, and a sweet bass that sounds like it was plucked right out of our favorite deep house tune. The track is laid over a 4/4 house beat, and features a sweet synth melody. The that reminds me of something Alice Deejay, or the would have put out in the late 1990's. The tune also features lyrics which sounds to me like the vocal work of Marshmello.

I could go on, and on here, there's a lot to this one, but I won't. Do yourself a favor, and give it a listen. I think you'll be pleasantly surprised and enjoy the nostalgia as you go back in time. If you're a fan of innovative music, into Marshmello, or Carnage, then this track is for you. With a runtime of 2:40, this is honestly a tune that you could play on repeat for a few times without getting tired of it. With that being said, Marshmello & Carnage's new tune, 'Back In Time' is out now on , and can be streamed below, enjoy!

Marshmello & Carnage – Back In Time | STREAM