Payday hits the sea with Spider-Man and Chewbacca in her "Dolphin" video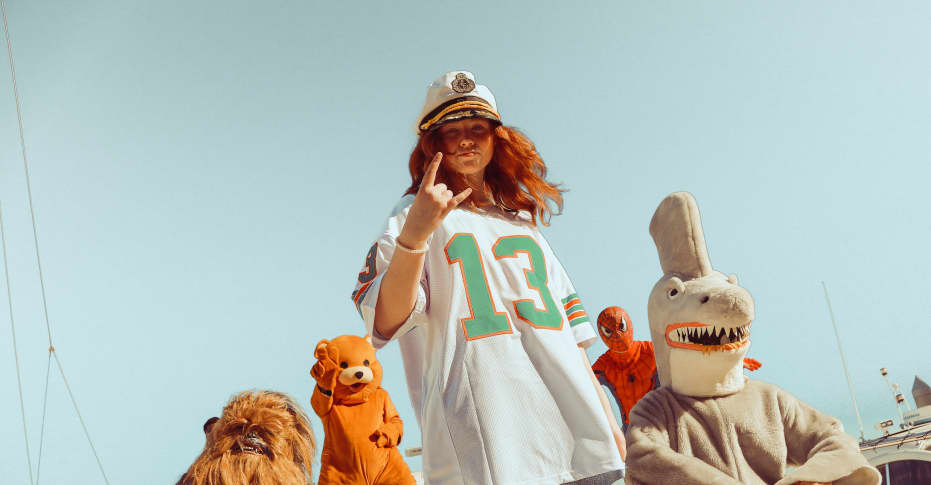 "Fuck rich boys always going golfing, I'm aquatic, I'm a fucking dolphin." Bratty, surreal, and ready for your attention; that is teen artist Payday on new song "Dolphin." The track, co-produced by Andy M of Death Grips, mixes hyperpop flourishes (blown out bass, glitchy vocals) with the trills and squeaks of real life dolphins. It's a lot to take in so best to just go along for the ride.

Taken from Payday's upcoming project P.U.K.E Tapes Vol 3, due March 26, "Dolphin" comes with a suitably wild video. Donning a captain's hat, Payday goes sailing in a boat with a series of larger than life characters for company. Joining her on a jet ski ride across choppy waters are a Spider-Man, Chewbacca, a super cute bear, and the Miami Dolphins mascot.

Speaking to The FADER via email, Payday said: "'Dolphin' might be the craziest shit you'll hear all year, and if you don't hate it, I think you'll love it. I seriously have so much more I've been working on that I'm psyched to share with you. P.U.K.E Tapes Vol 3 coming soooooon."

Check out the "Dolphin" video, premiering exclusively via The FADER, above.