Save Our Scene UK Presents #FREEDOMTODANCE on Sunday 27th June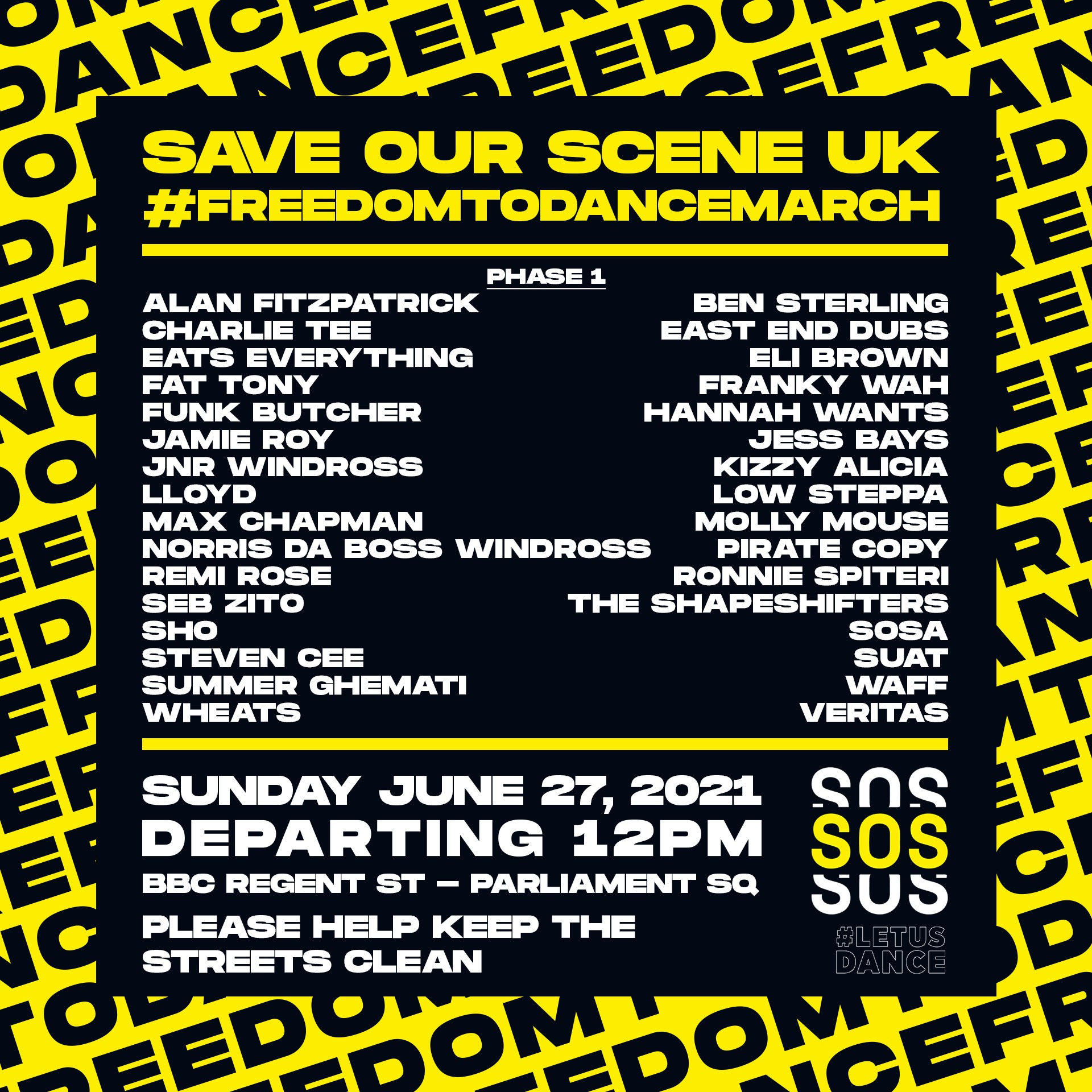 After a lot of tension between the nightlife workers and the UK's government, people will gather in a massive protest. Save Our Scene UK organized a demonstration that will take place on Sunday 27th June 2021, in London. Besides, the manifestation will include performances from some of the biggest names in music. If things go as expected, #FREEDOMTODANCE will be the largest demonstration the music industry has ever seen.

Kai Cant, the founder of Abode came to SOS with the initial idea and called DJ's and powerhouses from across all corners of the scene to come together. The march will depart from Marble Arch at 12 pm on Sunday, making its way to Parliament. But it won´t be a normal demonstration, as it will include DJ sets from the likes of Alan Fitzpatrick, Eats Everything, East End Dubs, Hannah Wants, Waff, and many more…
"Whilst it's great to see waves of football fans partying in London, it really asks us a question. Why is the music industry still being suffocated by the Government? We have proven that we can open responsibly, and 58,000 people took part in the pilot events, of which only 15 people tested positive. This has proven the industry can successfully carry out safe events without adding to the spread of the virus."

George Fleming, founder of SOS,
Unfortunately, the industry lost all confidence in the Government over their handling of the arts through the last 18 months. The industry feels that they were not treated properly and did not receive the crucial help that they needed.
This Government is all about money, and it can't be that our industry isn't financially beneficial to them because we clearly are. So it has to be merely down to the fact that they don't like the culture plain and simple. I'm absolutely not a Covid denier or anti-mask/vaxer in any way shape or form. But what I am is a person who is a member of an industry that has been totally downtrodden time and time again…Stop ruining hearts, minds, and livelihoods.

Eats Everything, leading U.K. artist
Save Our Scene Will Fight For The #FREEDOMTODANCE
One of the organizers, Kai Cant says, "Some might ask, why protest now, it's only 4 weeks away? To which I answer, if we stay silent, this will present a greater potential for the Government to delay again. We have run many polls over the past 2 days, which shows on average 90% of the population doesn't believe they will lift all restrictions on July 19th. This shows a complete lack of confidence, so that is why we are here today. For the people."

Fleming continues "We are protesting this week to tell the Government that enough is enough and we will not stay silent any longer. Too many jobs have been lost and the damage has become irreversible. Around 10,000 licensed venues have already closed permanently and over 400,000 live events staff have lost their jobs. Our message to the Government is if they delay any further, we will be on the streets protesting daily. We cannot afford to wait any longer."
and delays in dates to reopen nightlife, the industry will finally mobilize with a clear goal. Moreover, Save Our Scene clarifies that this demonstration is not about people's decisions and opinions about the vaccination and its programme. Obviously, they also encourage everyone to act responsibly, safely and pick up their litter on the march.