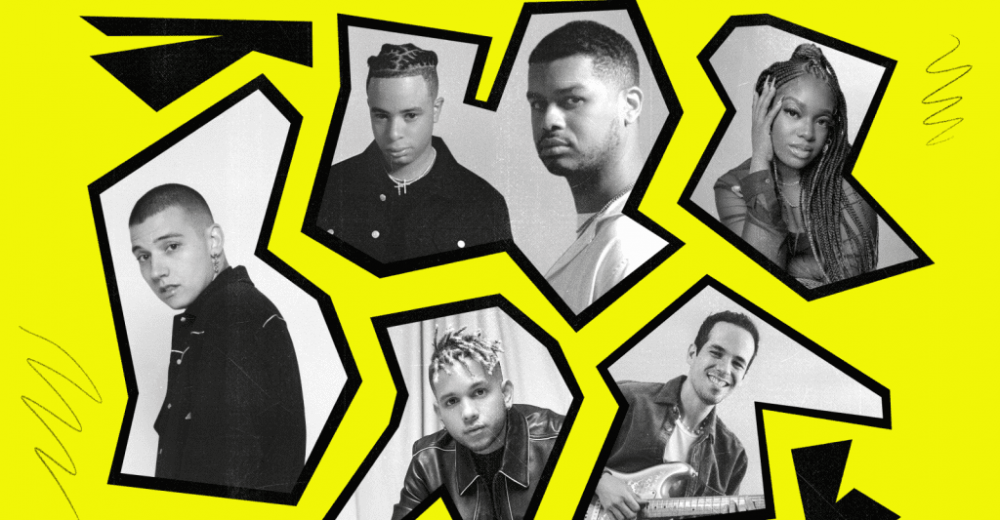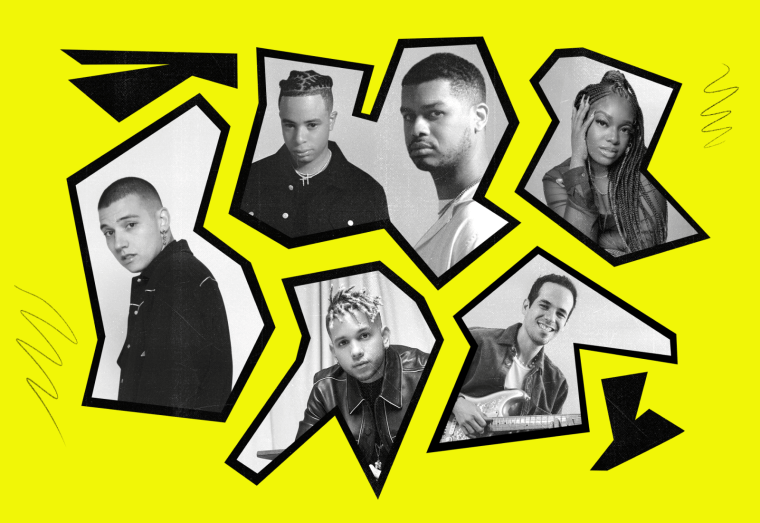 Image via Splice.

Splice has curated a list of the biggest producers of the past year ahead of the annual Splice Awards coming at the end of November. A collection of the hottest names in production, the inaugural Splice List features creatives from around the world – PinkPanthress, Cardo Got Wings, P2J, St Vincent, Jetsonmade, Hit-Boy, and Daniel Nigro amongst others.

Splice's Director of Global Music Culture Kehinde Hassan says: "It's been an amazing year for music. This group of producers have truly defined the sound of 2021. We heard P2J's brilliance on WizKid's 'Essence' from London, Daniel Nigro and Olivia Rodrigo took the world by storm, while Edgar Barrera amplified Mexican Regional music outside of its comfort zone."

Splice celebrated the list by launching a new Splice playlist with Apple Music, curated by Kehinde Hassan (Christian Rich) featuring the finest in production. "With the playlist, we wanted to create a home for great sound, where you can hear nothing but beautiful production, from one song to the next," Hassan adds.

Ambezza
The German producer started producing back in 2008, but it wasn't until 2020 that he'd see a seismic shift in his career after producing the 5x Platinum single "Life Is Good" for Future & Drake. He'd go on to helm more tracks for the Canadian rapper, showing up on the Certified Lover Boy track "Girls Want Girls." Since then, the producer has gone on to work with DaBaby, YG, Mozz.

Blake Slatkin
Blending the worlds of rap, indie rock, and electro, Blake's take on production has so far landed this L.A.-based producer at the top of the charts, with The Kid LAROI and Justin Bieber's "Stay" landing at the top of the Billboard Hot 100 for seven weeks and Lil Nas X's "That's What I Want" landing in the top 10.

BoogzDaBeast
With a Grammy award for his work on Kanye West's Jesus Is King under his belt, producer BoogzDaBeast has actually helmed a number of tracks for the Chicago rapper, including "Hurricane," and "Moon," which peaked in the top 20 of the Billboard Hot 100. He's gone on to work with everyone from Teyana Taylor and Ty Dolla $ign to Chloe Bailey, co-producing her solo debut "Have Mercy" alongside Murda Beatz.

Cardo Got Wings
Getting his start working with rappers like the late Mac Miller, Chevy Woods, and Wiz Khalifa back in 2010, the Texas-based producer was behind the boards for tracks like Drake's Certified Lover Boy cut "7 AM on Bridle Path" and Baby Keem's "Family Ties." From his earliest days as part of Taylor Gang, he's gone on to work with some of the biggest names in the genre, from Skepta and Kendrick Lamar to Jay Z, and Migos. With G-funk as his main musical baseline, the Grammy-nominated producer has long-maintained his signature sound of complex arrangements with car-rattling bass.

D'Mile
It's safe to say that D'Mile has the magic touch when it comes to R&B, having helmed one of the year's biggest singles, Silk Sonic's chart-topping "Leave The Door Open." Working with acts like Lucky Daye, Joyce Rice, and India Shawn, his calling card is production that straddles the line between nostalgia and electro-leaning alt-R&B. In 2021, he earned his first Grammy and Oscar for H.E.R. singles "I Can't Breathe" and "Fight for You."

Daniel Nigro
The producer behind two of the biggest songs of 2021, Nigro's work with Olivia Rodrigo has landed the Tall As Lions frontman-turned-producer at the top of the charts, with "Drivers License" and "Good 4 U" both debuting at #1 on the Billboard Hot 100. On top of that, each hit broke streaming records, with "Drivers License" holding the title for most streams of a song in a single week on Spotify and seeing 130 million total streams in its first week.

Dem Jointz
Making inroads in the worlds of pop, R&B, Hip hop, and K-Pop, the Compton-born producer's versatility has no doubt contributed to his longevity, having gotten his earliest start in the early 2010s. He's worked with everyone from Rihanna, Kanye West, and Eminem, to Korean supergroups like EXO and NCT 127, whose last album Sticker, featuring its Dem Jointz-produced title track, sold a million copies in a single day. From West's latest album DONDA, his work on "Jail" landed the producer at #10 on the Billboard Hot 100.

Edgar Barrera
Working with artists like Selena Gomez, Maluma, Arian Grande, Shakira, and Daddy Yankee, Barrera is one of the most sought-after producers in the industry. Sometimes combining elements of Reggaeton with Latin Pop, Bachata and Cumbia, as evidenced by his work on Colombian artist Camilo's Latin Grammy-nominated hit "Vida de Rico," Barrera's production also boldly brings regional Mexican sounds to the forefront.

FNZ
This Australian duo, also known as Finatik N Zac, is behind some of music's biggest hits, including co-producing Kid Laroi and Justin Bieber seven-week Hot 100 chart-topper "Stay," and most recently contributed six tracks to Kanye West's last album DONDA including the late Pop Smoke and Pusha T-assisted "Tell The Vision." Also having worked with artists from A$AP Rocky to Jaden Smith, the pair took the reins on producing the lion share of Denzel Curry's 2019 album Zuu.

GuiltyBeatz
As one of the biggest names in Afrobeats, GuiltyBeatz's signature sound has provided the perfect backdrop for artists including Tems, Jorja Smith, Wizkid, and Beyoncé; having helmed three songs on her 2019 album The Lion King: The Gift.

Hit-Boy
With a seemingly endless production discography, Hit-Boy's trajectory has been full force since the early 2000's. Having produced hits like JAY Z and Kanye West's "N*ggas in Paris," and the Grammy-winning "Racks in the Middle" by Nipsey Hussle featuring Roddy Ricch, Hit-Boy seamlessly crisscrosses the world's of hip-hop, R&B, and pop, working with everyone from Beyoncé, and H.E.R. to Rihanna, Britney Spears, and Justin Bieber. Most recently, his work on Nas' King's Disease II album landed him at the top of the Billboard Hip Hop/R&B charts, and in the top 5 on the Billboard 200. His most recent work on Don Toliver's "What You Need" has already racked up tens of millions of streams and just last month, the producer teamed up with Big Sean to drop the collaborative EP What You Expect.

jetsonmade
As one of the key players in North and South Carolina's burgeoning rap scents, the 25-year-old producer's discography is packed to the brim with hip hop heavyweights. Having produced DaBaby's "Suge" and Jack Harlow's "What's Poppin" among scores of other hits, rappers like YoungBoy Never Broke Again, Yung Baby Tate, and Roddy Richh come to the young producer when they're after a certified hit. From his signature producer tag to his playful, bass-heavy beats, the producer's signature sound sometimes feels like the world's best video game come to life.

Kenny Beats
With a catalog that spans across hip hop, working with everyone from 6LACK and Isaiah Rashad to Vince Staples and Rico Nasty, Kenny Beats might also be known just as much for his off-the-wall social media persona as his discography. Rising to prominence in the late 2010s, he started working with rappers like Kendrick Lamar and ScHoolboy Q while he was still a teenager. Today, he's solidified as one of the most versatile producers in rap, also serving as Splice's first artist-in-residence. This year alone, the producer has steadily remained on the Billboard 200 album chart in some capacity, with Vince Staples' self-titled album peaking at #21 on Billboard's 200 albums chart and Isaiah Rashad's The House Is Burning rising to #7 on the Billboard 200.

Metro Boomin
A mainstay since the 2010s, Metro Boomin's work, and his instantly recognizable producer tag, has offered rappers like Future, Gucci Mane, Migos, Drake, and 21 Savage some of their biggest hits, from "Knife Talk," to "Betrayed," and even "Foot Forward" by James Blake. Characterized by his room-shaking basslines, his work has become synonymous with the trap sounds of the South, inspiring a whole new generation of producers along the way.

Ovy on The Drums
As the producer behind numerous hits for Colombian star Karol G, including her 2020 chart-topper "Tusa" featuring Nicki Minaj, as well as singles from Anuel AA, J. Balvin, and more, Ovy on The Drums has worked with some of the biggest names in urbano.

P2J
The London-based producer may have only began his career in the late 2010s, but he's already made history having helmed Wizkid and Tems' "Essence"—the first song by an African artist to not only make it onto the Billboard Hot 100, but to ever be certified Platinum. Long before the feat, P2J has worked alongside everyone from Burna Boy to Chris Brown to Goldlink to Beyoncé, artfully toeing the rhythmic lines between Afrobeats and R&B.

PinkPantheress
Serving up a blend of bedroom pop, drum & bass, and hyper pop underpinning relatable lyrics about crushes and living up to your potential, the TikTok-turned-IRL star's career seems to be accelerating at lightning speed, with an EP, to hell with it, now under her belt. After initially sharing short snippets of her music on the video-sharing app to test the waters, singles like "Passion," "Pain," "Break It Off," and "Just For Me" have grown to translate into undeniable streaming success.

Sky Rompiendo
From his earliest days, Rompiendo has been instrumental in shaping reggaeton star J Balvin's sound, serving as a producer on each of his studio albums. Besides Balvin, Rompiendo also works with some of Latin music's biggest names, from Sech, Ozuna, and Bad Bunny to Rauw Alejandro, Maluma, and Nicky Jam.

St. Vincent
The singer-songwriter has produced her own music since the genesis of her career, making the leap from a member of Sufjan Stevens's touring band to solo act by the mid-2000s. Traversing the worlds of art rock and indie pop, the Grammy Award-winner also incorporates elements of experimental rock and jazz. Her 2021 album Daddy's Home, inspired in part by her father's then-recent release from prison, peaked in the top 20 on the Billboard 200 chart.

Take A Daytrip
As Lil Nas X's meteoric rise continues, so too does that of the architects of some of his biggest hits. The production and songwriting duo made up of Denzel Baptiste and David Bira, have not only crafted singles like Nas X's chart-topping "Montero (Call Me By Your Name)," but have also worked alongside late rapper Juice Wrld, Kid Cudi, Rico Nasty, James Blake, and more. Thanks to their versatility, the producers bounce from pop, to rap to indie and back again with ease.

UNIIQU3
The de facto queen of Jersey Club is on a quest to prove the dancefloor-rattling genre is for more than just the clubs—it's one of the most influential across the pop zeitgeist, helped in no small part by remixes that quickly go viral on TikTok. The Newark native infuses elements of techno, house, and electro into her work, a testament to the discussion about dance music's Black roots.