Tyson Fury and Steve Aoki Took Over Hakkasan After Fight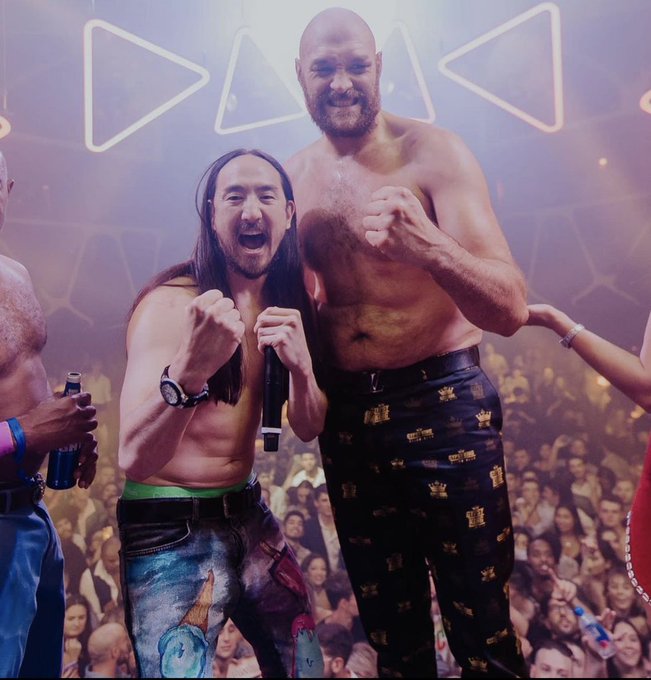 Tyson Fury and took over on Saturday evening after Fury won a heavyweight boxing championship. The British fighter knocked out Deontay Wilder in round 11 to retain his WBC title.

It was a long night for Fury, but that didn't stop him from going out to celebrate like a champion. A SportsCenter post on Instagram captioned, "Tyson Fury's stamina is different," showed him and Aoki flexing on stage (see below).
Aoki also shared a glimpse into their celebration with a few photos on Twitter. Here is what he said about the evening:

"Raged hard with 2 victory parties for the world heavyweight champion. @Tyson_Fury Now time to sleep. Good night."
According to NME, Tyson Fury expressed praise to his "favorite DJ" on stage. Since Aoki already held an after-party for Fury when he beat Wilder in February 2020, they both show a mutual admiration for each other.

This night marked a huge accomplishment for the heavyweight champion. Because of his win, Fury can pursue the remaining heavyweight belts. But to do so, he must have a unification fight between him and Ukrainian Oleksandr Usyk, who won the belts last month (NME).

Please keep track of Tyson Fury's next moves by following him on Twitter @Tyson_Fury.

Photos via Twitter @steveaoki